Your solution for simplifying and centralizing project management

Data insights + control = Efficient projects that deliver better results
Project Portal was built specifically for environmental data projects — and for you, to make your job easier. It streamlines and synthesizes the entire project, from staying in compliance, to scheduling meetings, to managing budgets.
Why Project Portal?
Backed by world-class ddms environmental data expertise
Purpose-built for environmental data projects
Easy and affordable (no training needed!)
Supports users across multiple organizations
Individual security controls
Tracks progress
Project Portal is a powerful and intuitive cloud-based SaaS offering developed by the environmental data experts at ddms. Use Project Portal for end-to-end project work, from in-depth data, to project documents, maps, budgets, schedules and more.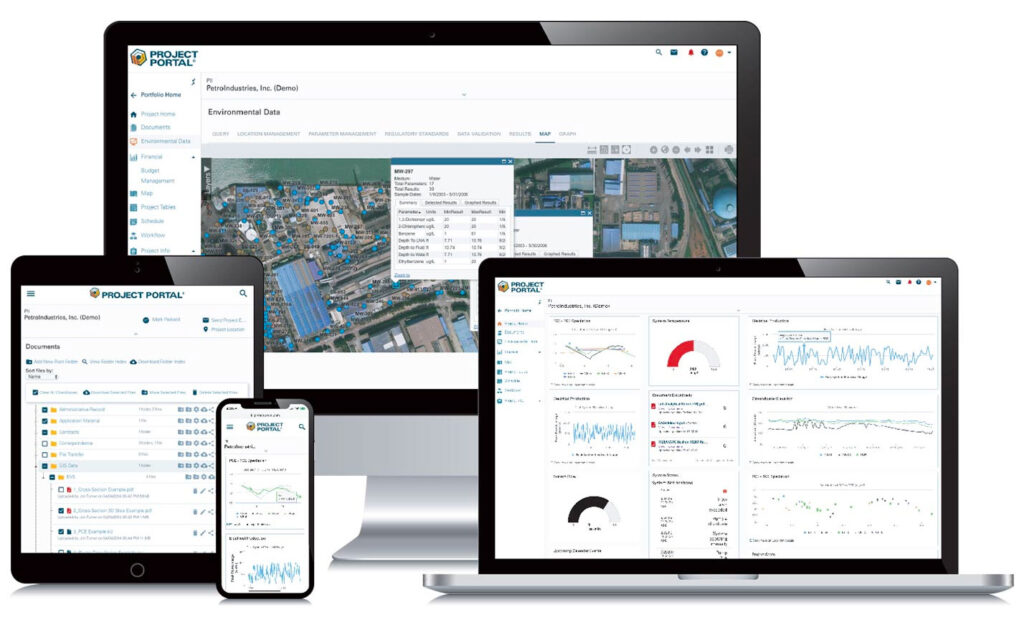 Project Portal saves time and money every year while increasing overall transparency. Project Portal manages my data, displays current state information in a dashboard format, and allows document sharing – these features have reduced my need for project reporting from weekly to monthly while seamlessly allowing the EPA to keep current on status. This was a huge cost and time savings.
– Mike Palmer, de maximis Project Coordinator
What can you do with Project Portal?
Project Management
• Manage workflows
• Manage users & permissions
• Access & share documents
• Coordinate schedules
Environmental Data & Compliance
• Monitor environmental data
• Run a sampling program
• Run or submit a report
• Collect data
Site Management
• Plan site work
• Discover exceedances
• Plan remediation
• Track progress
Financial Management
• Create & track budgets
• Manage cash flow & forecast
• Process invoices
• Manage & pay invoices
PROJECT PORTAL MODULES
Purpose-built tools for Environmental Projects
See what each module can do for you. No training needed!
Video library: Quick tips to do more in less time.
To save you even more time, we put together some short videos to show how you can tackle tasks easily and seamlessly with Project Portal.
Contact us with questions or to schedule a demo.