ddms receives 2019 EBJ Business Achievement Award
ddms Receives 2019 EBJ Business Achievement Award
Environmental Business Journal Recognizes Firms for Growth and Innovation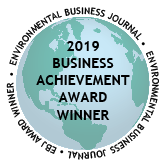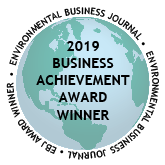 San Diego, Calif. (January 2020) — Environmental Business Journal®* (EBJ), a business research publication which provides high value strategic business intelligence to the environmental industry*, has honored ddms, inc. for Technology Merit Award: SaaS Project Management Platform (Project Portal®) in 2019.
"In what is widely regarded as a stable market, a number of companies exceeded the norms of low single-digit growth with double-digit growth or ambitious ventures into new practice areas or technology development," said Grant Ferrier, president of Environmental Business International Inc. (EBI, Inc.), publisher of Environmental Business Journal.
ddms, inc. was recognized for its 2019 launch of a major upgrade to its Project Portal SaaS project management platform. Initially launched in 2006, Project Portal is a secure, cloud-based project collaboration application that allows teams to share project-critical knowledge, analyze project data, and centralize project files. Project Portal is currently utilized by several Fortune 500 companies to manage their project portfolios. Modules include financial, document, environmental data management, mapping, and workflow modules, among others. New enhancements include a new front end, which has improved support for use on multiple devices; new financial budget and management tools, which include dynamic cash flow capabilities and real-time project dashboard capabilities that provide key performance indicator (KPI) metrics to users with minimal clicks. Like all of ddms' client applications, Project Portal is built and hosted completely on Amazon Web Services (AWS) infrastructure. In 2019, ddms also announced it has achieved Amazon Partner Network (APN) Select Technology Partner status.
The 2019 EBJ awards will be presented at a special ceremony at the Environmental Industry Summit XVIII in San Diego, Calif. on March 19, 2020. The Environmental Industry Summit is an annual three-day executive retreat hosted by EBI, Inc.
* Environmental Business Journal provides strategic information and market forecasts for executives involved in 14 business segments, including environmental remediation, water & wastewater, air pollution control, environmental consulting & engineering, hazardous waste, instrumentation, pollution control equipment, waste management, resource recovery, and solid waste management.
###
About the EBJ Business Achievement Awards: In October-December 2019, Environmental Business Journal solicited nominations for the EBJ Business Achievement Awards. Nominations were accepted in 200-word essays in specific categories. Final awards were determined by a committee of EBJ editorial advisory board members. (Disclaimer: company audits were not conducted to verify information or claims submitted with nominations)
About EBI: Founded in 1988, Environmental Business International Inc. (San Diego, Calif.) is a research, publishing and consulting company that specializes in defining emerging markets and generating strategic market intelligence for companies, investors and policymakers. EBI publishes Environmental Business Journal® and Climate Change Business Journal®. EBI also performs contract research for the government and private sector and founded the Environmental Industry Summit Series, four annual conferences event for executives in the environmental industry.